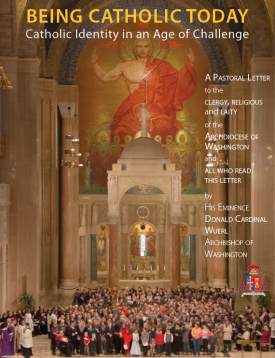 "Being Catholic Today: Catholic Identity in an Age of Challenge" is the title of the new Pastoral Letter issued by Cardinal Donald Wuerl on Pentecost Sunday, May 24, 2015 to the Clergy, Religious and Laity of the Archdiocese of Washington. Read the Cardinal's letter (English) (en español).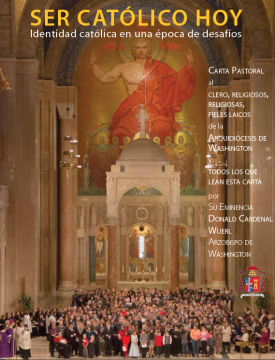 An excerpt from the Introduction to the letter describing the subject of its ten chapters, is reprinted below.
In chapter one, we will examine more closely this extraordinary gift of new life through baptism. Through the unique gift of baptism, in divine mercy, our identity as planned by God is reestablished. We are reborn (John 3:3-5). In baptism, we come to share in Jesus' life and death.We are "buried with him," says Saint Paul, and so we also rise with him to a new life (Romans 6:4). Christ's life is our life and it is a divine life because we are partakers of his "divine nature" (2 Peter 1:4), as he has partaken of our human nature.
Chapter two offers some reflections on what it means to be a member of God's family, the Church. Through the power of the Holy Spirit, we are united so closely to Jesus that we are actually identified with him. We are incorporated into the Church, his Body in the world today.
Then in chapter three, we will look at some of the signs or ways by which we can see the presence of the Church and our identity as its members. If we call ourselves Christian, then Christ must be recognizable in us, both personally and in the institutions of his Church. This is so because we are also baptized into the mission of Jesus. He tells us he is the way, the truth and the life (John 14:6), the light of the world who testifies to the truth which sets us free from sin and death and brings hope to a humanity struggling in a dark world (John 8:12, 32, 18:37). To be his disciple is to do the same
Chapter four provides some observations on what our choice to be a follower of Jesus entails. The Church, of which we are members, exists to evangelize, to invite people to an encounter with Jesus. This is her nature – this is "her deepest identity," affirmed Blessed Paul VI. The Church is founded by Christ to share the Good News of his liberating truth and saving love and thereby reconcile humanity with God (Evangelii nuntiandi, 14).
We will address in chapter five the heart of our message today, God's mercy. In God's plan, we are each called to love him and one another in truth, as a family (Matthew 22:37-40). Our original parents, however, were led astray by a lie. They turned away from truth in turning away from God. They were not honest with themselves in their identity as children of a loving Father. We call this failure original sin. Its effects are well known because each of us can put ourselves first instead of God. We are impaired in our ability to know what truth is and fully be ourselves as God made us to be. However, God is always good, merciful and loving. We were not left alone to make our way without hope or help. What was lost in sin is restored to us by Christ and in Christ.
In the following chapters, six and seven respectively, we can reflect on our freedom to be who we are as followers of Christ, and some of the challenges of our age as we try to live and share our faith. In our age as in every age, the Good News and the Church as its messenger can be challenged and even distorted from both outside and inside. This is not new. Even Saint Paul warned the early Church of this when he wrote the Galatians, "there are some who are disturbing you and wish to pervert the gospel of Christ" (1:7).
In chapter eight, I touch on the situation the Church faces today that reflects a strong animus against what we believe and our right to follow our faith convictions. It is seen in the new discrimination today called by the name "anti-discrimination."
Finally in the last chapters, nine and ten, I ask us to look at our freedom to be who we are and our contribution to the wider community.It is against all of this background that we are called now to examine our own Christian identity. What does it mean to be a Catholic?